A wide spectrum of research facilities functions at the Institute of Technical Chemistry of UB RAS.

IR Fourier-spectrometer, model IFS66/S (Bruker, Germany); IR Fourier-spectrometer, model Vertex 80V (Bruker, Germany), and Raman spectrometer, model Senterra (Bruker, Germany)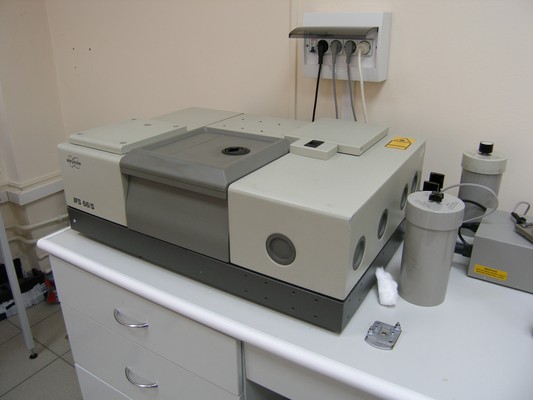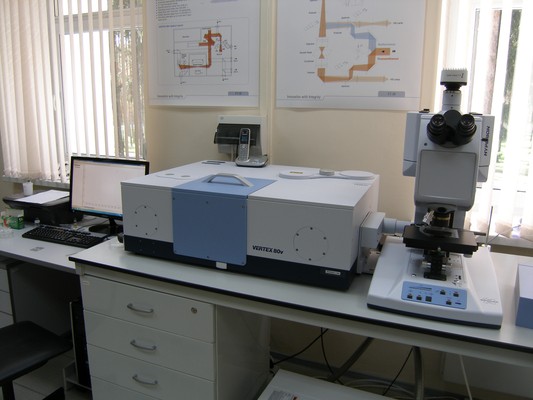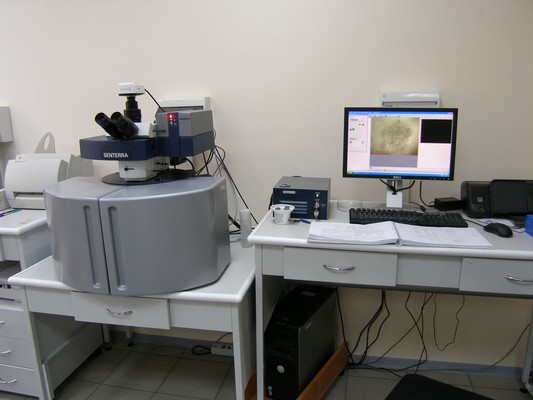 These devices combining two mutually complementary vibrational spectroscopy methods enable qualitatively determining the structure of organic and inorganic compounds, materials, and analyzing availability of additives.
Rotary rheometer, model Rheotest RN 4.1 (Rheotest, Germany)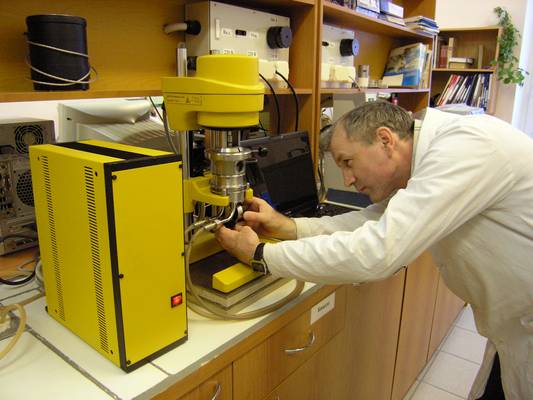 The tool is intended for rheological measurements and determination of dynamic viscosity of liquids in the sharing motion mode at various temperatures, is helpful at the study of polymeric compositions' curing in the stage of their plastic state.
Research Optical Microscope, model OLYMPUS BX51 (Olympus, Japan) equipped with digital photo imaging system and imaging software ImageScope M to process optical images.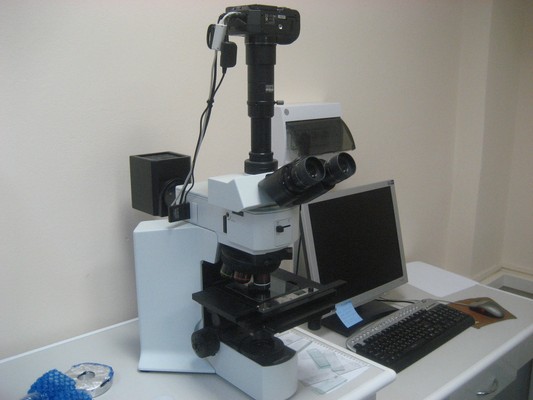 The device provides visualization of specimens at magnifications characteristic of optical microscopy.
HM 430 Sliding Microtome (Thermo Fisher Scientific, USA)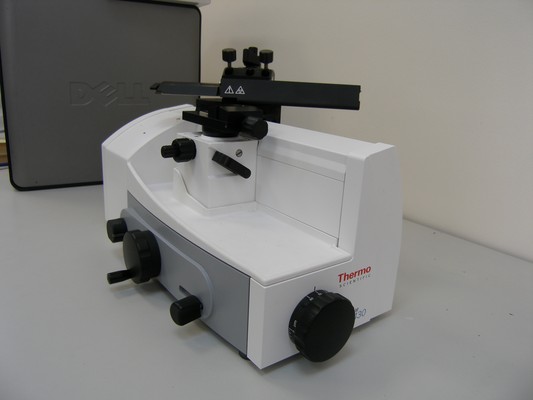 Mechanical sliding microtome to section fine paraffin specimens.
Gas Chromatograph with Mass Selective Detector System, model Agilent 6890 (Agilent, USA)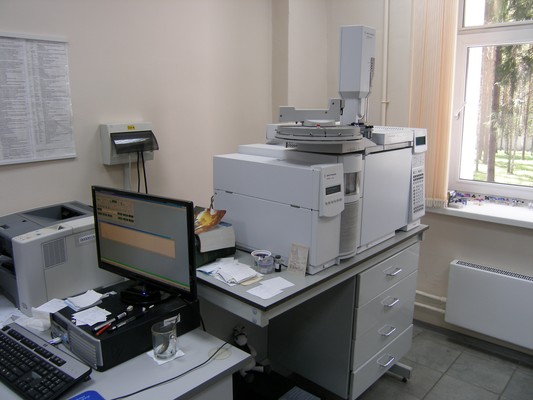 Chromatography-mass-spectrometry combines chromatography as method for mix separation with mass spectrometry as the most informative method for determination of the structure of organic compounds. With two methods combined, the system enables to quantitatively analyze and to selectively detect the opted ions. The use of the software enables to mathematically process the data, to carry out information retrieval and identification of either individual chemical substances, or components in complicated mixes.
High Pressure Liquid Chromatograph, model Agilent 1100 (Agilent, USA)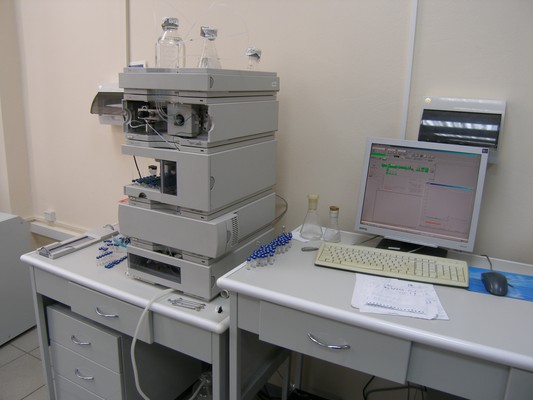 The system provides quantitative and qualitative analysis of organic compounds and of complicated specimens (subject to availability of pure individual substances), adaptation of currently existing analytical methods for organic compounds, and development of the future ones in 190-950 nm diapason of wavelengths, qualitative and quantitative analysis of chiral compounds.
Differential Scanning Calorimeter, model DSC-882e/400 (Mettler Toledo, Switzerland)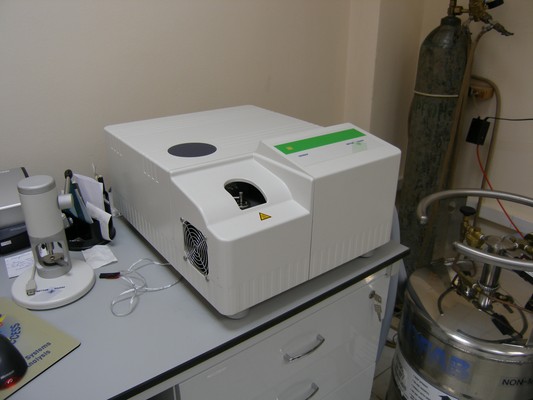 This device provides exploration of materials' properties with use of measuring heat flows as dependent on time and temperature, is intended for quantitative measurements during investigations in relaxation and phase transitions, in polymerization kinetics in temperature diapason of (-150 °C) up to (+400 °C) in dynamic and isothermal regimes.
Thermogravimetric Analyzer/Differential Scanning Calorimeter, model TGA/DSC 1/1100 (Mettler Toledo, Switzerland)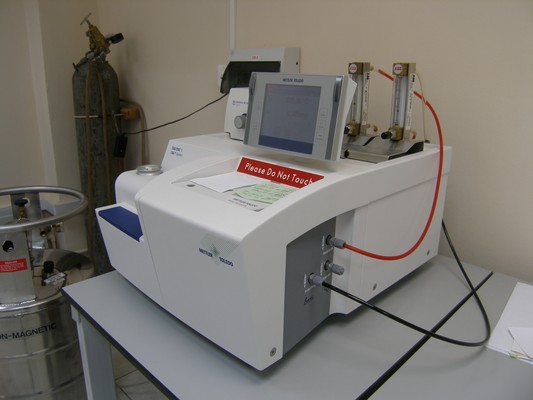 This combined device provides exploration of materials' properties with use of measuring mass loss flows as dependent on time and temperature in diapason of room temperature up to 1100 °C, is usable to qualitatively appraise thermal stability, to quantitatively determine kinetic parameters of thermal destruction process in either dynamic, or static medium of air or inert gases.
Thermomechanical/Differential Thermal Analyzer, model TMA/SDTA841 (Mettler Toledo, Switzerland)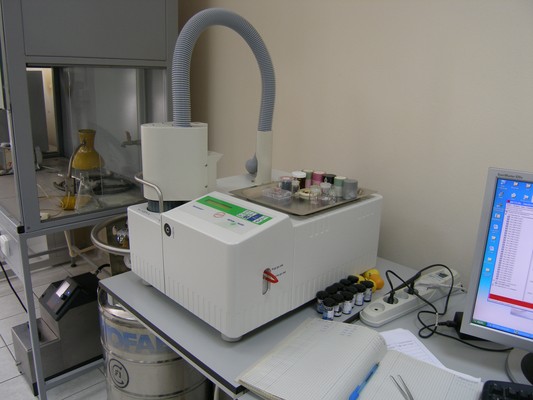 The analyzer provides easy and reliable determination of materials' properties on the basis of variable linear dimensions as dependent on temperature, is intended for determination of thermal expansion coefficients in temperature diapason of (-150 °C) up to (+400 °C), of softening temperature, glass transit temperature, and of thermal stability.
Capillary Electrophoresis System, model Agilent CE (Agilent, USA)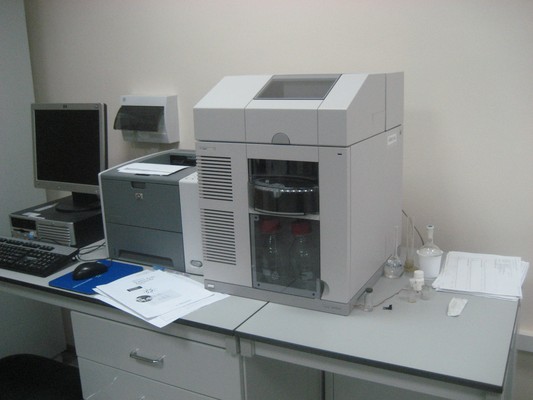 Capillary electrophoresis is an analytical method featured by high resolution capability, combining advantages of electrophoretic separation with a possibility of automated analysis and easy quantitative calculation characteristic of high-performance liquid chromatography. Capillary electrophoresis is a quantitative analytical method usable to determine compositions of complicated biological mixes while analyzing environmental objects, foods, medications, etc.
Accelerated Surface Area and Porosimetry Analyzer, model ASAP 2020 (Micrometrics, USA)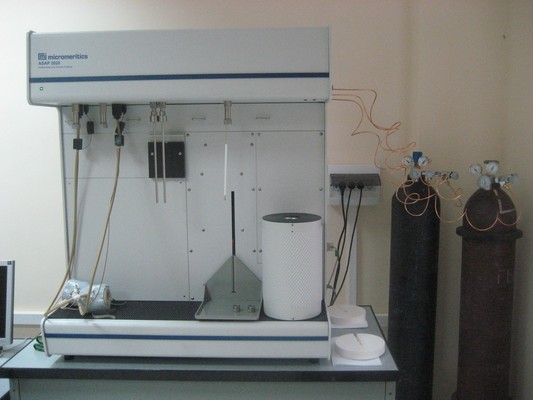 This device is the automated system to analyze surface area and to explore porous structures of materials with use of physical sorption methods. The system enables to completely analyze micro- and mesopores, pore size distribution, and to determine total surface area. Measurable pore diameter values are from 0.35 nm up to 500 nm. Both physical sorption and chemosorption processes can be explored.
Atomic-Force Microscope, model SMENA (NT-MDT Company, Russia)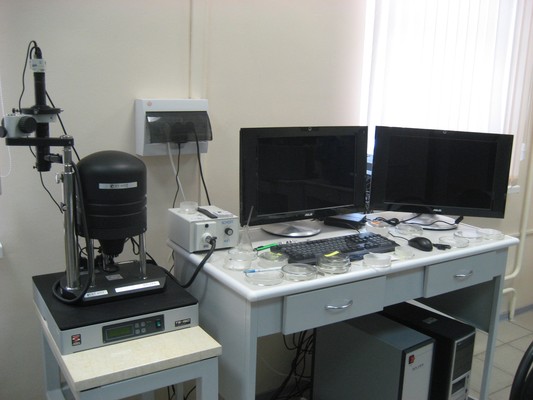 This device is the scanning microprobe microscope universal in its functional and measuring capabilities. Its measuring range can vary from 1.3 mcm up to 15 mcm along the Z axis and from 3 mcm up to 150 mcm along the XY axes. High resolution degree covering levels from molecular to atomic in the modes of scanning tunneling microscopy and contacting atomic-force microscopy is attained at the expense of scanners with diapasons of 3x3x1.3 mcm and 10x10x2 mcm. Atomic resolution is provided by a low noise level of the scanner (0.25A RMS along the Z axis) and by an extremely narrow scanning interval (0.006 nm, 0.01 nm).
Elemental analyzer, model Vario El cube (Elementar, Germany)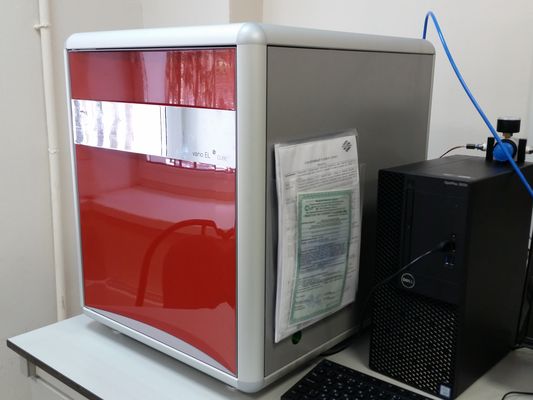 The analyzer is intended to measure contents of carbon, nitrogen, hydrogen, and sulfur in homogeneous organic materials. Applications: analysis of resins, pharmaceuticals, pure organic substances, oil products, vegetable oils, etc.
Atomic Absorption Spectrometer, model iCE 3500 (ThermoFischer, USA)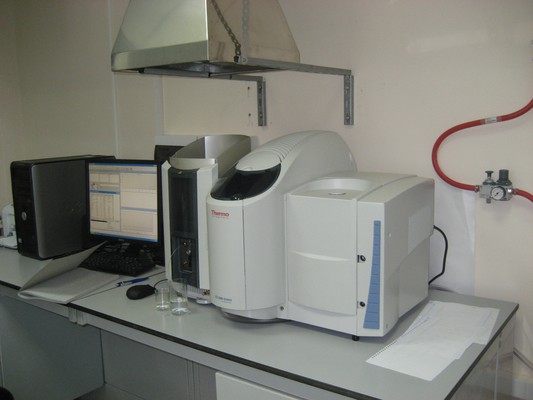 This combined Flame and Furnace AAS system is intended to determine metal ions extractable from solutions at enterprises of electronics, machinery, hydrometallurgy, non-ferrous metallurgy. The given model equipped with additional arrangements delivers exceptional performance at solving analytical tasks of determining microquantities of metals.
Scanning Electron Microscope, Evex Mini-SEM HR-3000 (Evex Analytical Instruments Inc., USA) equipped with EDS nanoanalyzer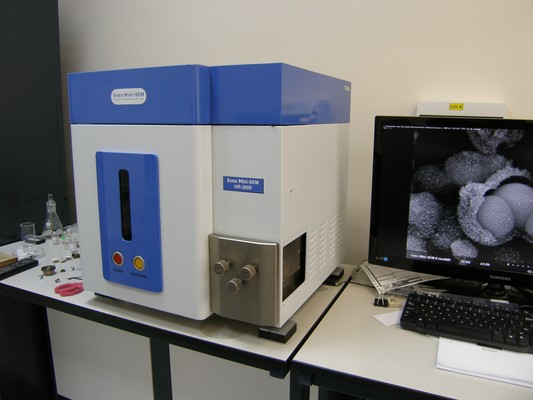 The microscope is intended to explore morphology of specimens and to study their chemical compositions.
Magnetron Film Evaporator, model SPI (SPI Supplies, USA)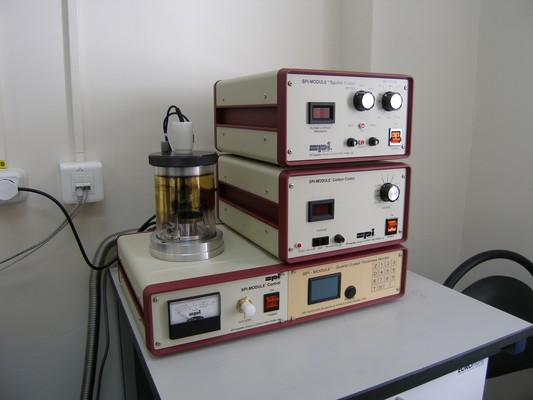 This desk tool is intended to deposit thin conducting layers (gold, carbon, etc.) onto non-conductive specimens as probes for raster electron microscopy.
Microwave Synthesizer, model Discover SP (CEM Corp., USA)
Synthesis Microwave Reaction System, model MARS 6 (CEM Corp., USA)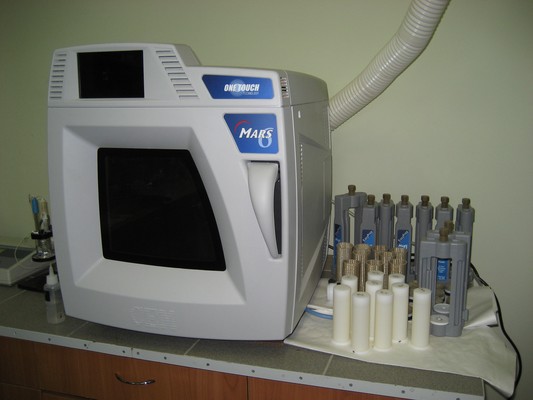 The system is intended for probe preparation to determine contents of heavy metals and toxic elements.
Universal Testing Machine, model Instron 3365 (Instron, UK)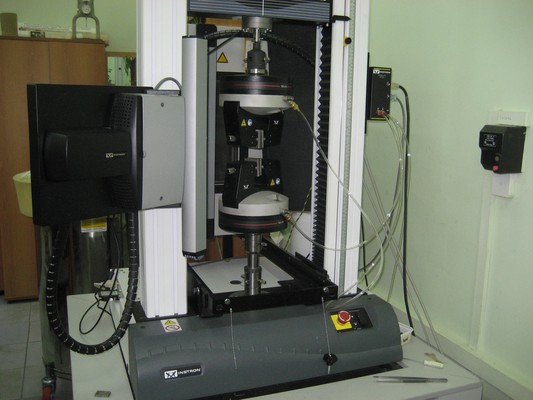 The machine is used to test elastic and thermoplastic polymers in a wide temperature diapason under strain/stress less 5 kN, or 500 kg (f).
Laboratory Double-Planetary Kneader Mixer, model 2P-1 (PRIMIX Corporation, Japan)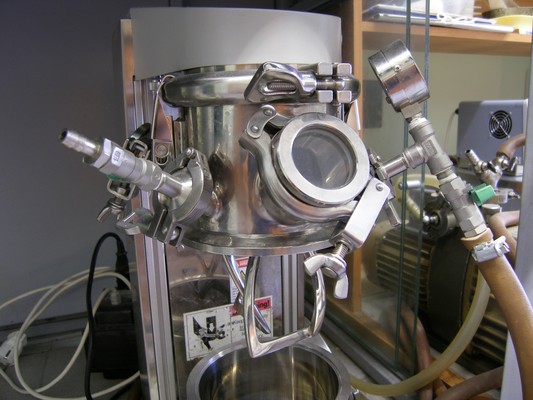 Reactor volume 0.7 L, with a possibility of thermostating and vacuumizing for high-viscous products (pastes).
Laboratory complex for investigations in cytotoxic activity of organic synthesis products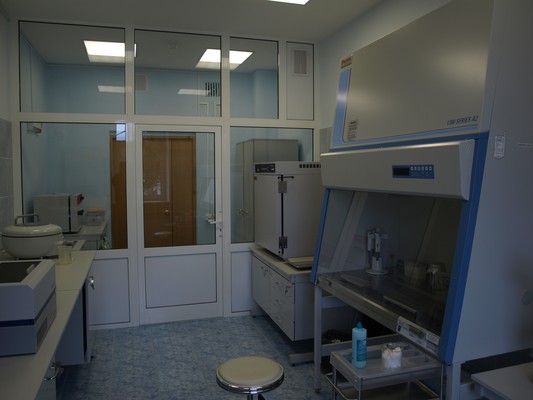 The complex includes:
- Axiostar Plus Optical Microscope (Carl Zeiss, Germany);
- Isotemp CO2 Incubator (Barnstead, USA);
- Laminar Air-flow Cabinet, model Hamilton SafeAire (Thermo Scientific, USA);
- FLUOstar OPTIMA, Multifunctional Microplate Reader (BMG Labtech GmbH, Germany)
ZetaPlus Potential Analyzer equipped with BI-PALS and BI-MAS modules (Brookhaven Instruments, USA)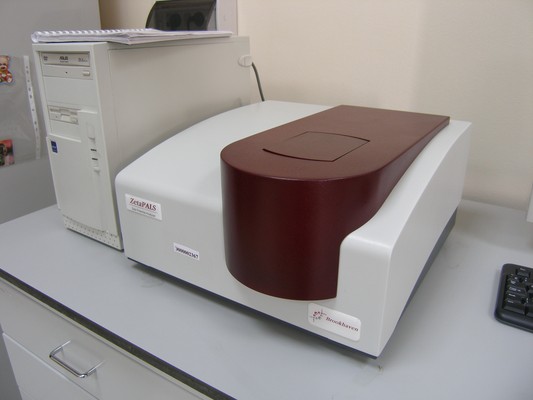 This precise system is designed to resolve two tasks: (a) measurement of particle dimensions from less 0.3 nm to over 3 μm by the dynamic light scattering method (BI-PALS module), and (b) analysis of zeta potential of particles from -220 mV to 220 mV in aqueous media, in organic solvents and oils, in over-concentrated salt solutions and near the isoelectric point.
Pressure Stirred Reactor, model Parr 4561, equipped with Parr 4848 Reactor Controller (Parr Instrument Co., USA)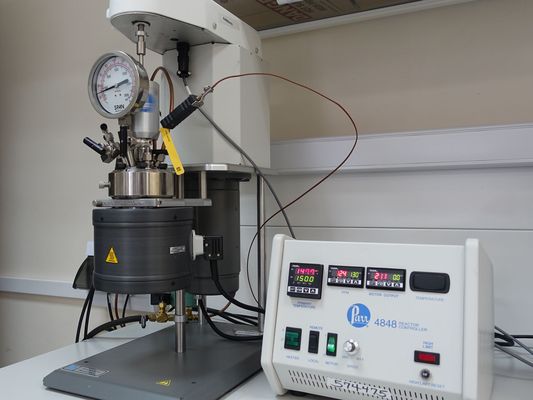 High pressure stirred reactor. Application fields: catalytic hydrogenation, synthesis and modification of polymers, hydrothermal synthesis, hydrothermal treatment of natural and synthetic materials, creation of nanomaterials of new generation.
Powder Rheometer, model FT4 (FreemanTechnology, UK)
This device determines dynamic, volumetric and shear parameters of powders in standard, compacted and aerated states. These functions enable to model different stresses and flow regimes a powder is exposed to, and to characterize reactions of the powder.
Force Tensiometer, model K100 (KRÜSS GmbH, Germany)

The device performs high-precision, automatic and reliable measurements of surface tension and interfacial tension, critical micelle concentration and contact angle on solids, fibers and powders. With high-quality components and a uniquely wide range of methods, the instrument carries out many tasks in the field of surfactant analysis and wetting measurement.
Friction Machine, model CMT-1 (Russia)

The four-ball friction machine is designed to test liquid and viscous lubricants usable to lubricate friction surfaces with the aim to determine basic tribological characteristics of lubricants in accord with the standards GOST, ASTM D2598-97, ASTM D2266-91.
Abrasiometer, model UGT 7012D (Russia)

The device is intended for appraisal of rubbers and plastics as to their wear-resistance and abrasion. The device determines weight loss of rubbers and plastics when abraded.
Gel-penetrating chromatograph, model Dionex UltiMate 3000 (ThermoFischer, USA)

This system measures content of a wide spectrum of components contained in specimens of substances and materials, in particular, molecular mass of polymers.
Interferential microscope, model MIM-340 (Schwabe, Russia)

Measuring-informational complex intended to monitor living and fixed biological objects, to measure their morphological parameters, and to appraise dynamic characteristics.